Description
The Apple iPhone 5 is a powerful smartphone running on the iOS 6 operating system. This iPhone boasts of a fast and powerful A6 processor which not only enhances the performance, but also helps in conserving battery life. The advanced dual-band Wi-Fi connectivity of this handset allows users to browse Internet and download content at a fast speed of up to 150 Mbps. Other highlights of the Apple iPhone 5 are 8 megapixel iSight primary camera, Apple Maps, iCloud online storage, easy-to-setup mail client, Safari web browser and iBooks. There is the proprietary App Store, which hosts more than 700000 applications for users to download. This Apple handset also features accelerometer, three-axis gyro, proximity sensor and ambient light sensor, among others.
Physical Features

Display4.00-inch
Processor1.3GHz dual-core
Front Camera1.2-megapixel
Resolution640x1136 pixels
RAM1GB
OSiOS 6.1.4
Storage16GB
Rear Camera8-megapixel
Battery Capacity1440mAh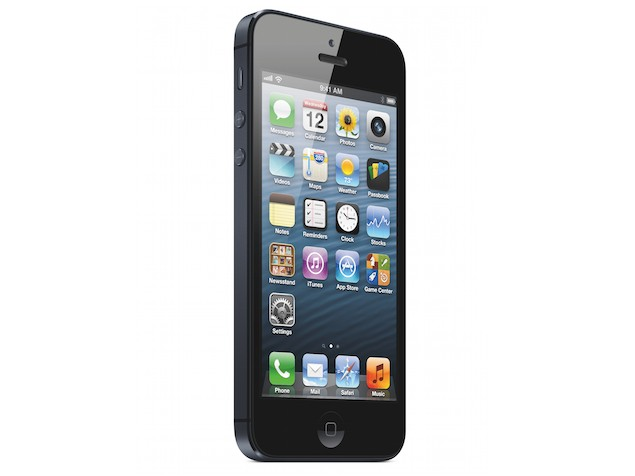 The Apple iPhone 5 is powered by 1.3GHz dual-core processor and it comes with 1GB of RAM. The phone packs 16GB of internal storage that cannot be expanded. As far as the cameras are concerned, the Apple iPhone 5 packs a 8-megapixel primary camera on the rear and a 1.2-megapixel front shooter for selfies.
Smarter Apple Maps
Apple Maps isn't perfect, but it does offer Siri enabled turn-by-turn directions and an option to make the experience smarter.
In Apple Maps, users can turn on Traffic to see traffic on the screen and to get alerts while driving, which include an option to see what the traffic backup is about and to get a new route around it.
The iPhone camera features a grid mode that is handy for composing photos. Photographers use the rule of thirds to compose a shot and draw a viewer's eyes to the point of focus. This setting makes it easier to line up a shot.
When using the iPhone 5 at night, the screen can often be too bright, even at the lowest setting. Some apps feature a night mode that turns white sections of the screen black, but not all apps offer it.